The advantages of ROBIN ANTI-CHIGNON® buckets
ROBIN ANTI-CHIGNON® buckets guarantee superior seedling quality, with a naturally shaped root system without deformation.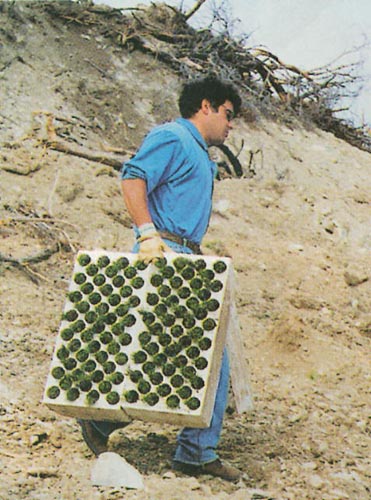 The many advantages of the patented ROBIN ANTI-CHIGNON® bucket system
Anti-Bun Device
Excellent growth and development of young plants thanks to a root system without malformation.
Integral Autocernage
On the entire surface of the mound and at the bottom of the bucket which leads to a root development with a very dense hair and without malformation, which optimizes the recovery.
Freshness of the plants
Delivered on your sites in their growing crates, freshness is preserved during transport and waiting on the site before planting.
Lengthening the planting period
Time saving

Unnecessary gauge

The clumps of regular and conical shape facilitate the setting up
Recovery guarantee
We guarantee the recovery of all plants delivered in ROBIN ANTI-CHIGNON® cup with our guarantee of recovery.
maneuverability
Lightweight and compact, honeycombed Robin cases are easy to handle even on rough terrain.
stackable
Transport des plants jusqu'au lieu de plantation en gerbant les caisses sur le côté (comme nous le faisons lors de nos livraisons avec nos camions), vous gagnerez du volume.
Pour les livraisons de nos PLANT TRUFFIER ROBIN, les caisses sont rangées sur des étagères, afin de transporter les plants debout dans les meilleures conditions, sans risque d'abîmer les plants.
| | |
| --- | --- |
| Exemple de volume | Plants TRUFFIER Robin en godet ROBIN ANTI-CHIGNON® R430 |
| Fourgon : type master | 4 500 plants soit 100 caisses rangées sur une étagère |
| Fourgonnette type Berlingo | 675 plants soit 15 caisses |
Conseils d'utilisation des plants en godet ROBIN ANTI-CHIGNON®
Conseils pour le stockage et la conservation des plants
Afin d'obtenir les meilleurs ré­sul­tats voici quelques con­seils, pour le stockage et la con­ser­va­tion des plants suite à leur livraison, dès la réception des plants, nous vous conseillons :
De stocker les caisses à plat sur le sol, (les plants en po­si­tion ver­ti­cale), à l'ex­térieur et à l'abri du vent.
At­ten­tion si les plants doivent être stockés à l'in­térieur d'un hangar ou d'une cave pour des raisons pré­cises, veiller à ce que ce lieu soit aéré et éclairé. Il ne faut ja­mais laisser des plants dans l'ob­scu­rité pen­dant plusieurs jours con­sé­cu­tifs.
Si la plan­ta­tion est re­tardée, vous pouvez con­server les plants pen­dant plusieurs jours voir même plusieurs se­maines avant de les planter, à l'ex­térieur, et si pos­sible dans un lieu abrité du vent.
Si le stockage par temps sec chaud ou venté dé­passe une se­maine, il faudra surveiller l'hu­midité des mottes, et ar­roser de 1 à 2 fois par se­maine, si néces­saire.
Si l'at­tente avant plan­ta­tion doit se pro­longer au delà d'un mois, il est con­seillé alors de surélever les caisses par rap­port au sol de quelques cm (4 à 10 cm) pour per­me­ttre l'au­to­cer­nage (ex­cepté pen­dant l'hiver – décembre à mars - quand des fortes gelées peu­vent se pro­duire).
Epoque de plantation
Les plants en GODET ROBIN ANTI-CHIGNON® per­me­t­tent d'al­longer les épo­ques de plan­ta­tion. Les plants étant livrés dans leurs caisses de cul­ture, ils peu­vent être sortis de pépinière et être plantés sans aucun risque pra­tique­ment toute l'année.
Vous pouvez ainsi à l'au­tomne com­mencer vos plan­ta­tions dès le mois de septembre en plaine, et dès la mi-août, en mon­tagne. Inu­tile d'at­tendre que les plants soient « aoûtés ».
Pour les plan­ta­tions au print­emps vous pouvez pro­longer jusqu'en juin sans risque.
Pour les je­unes PLANT TRUFFIER ROBIN en godet ROBIN ANTI-CHIGNON®, la plan­ta­tion est pos­sible à partir de la mi septembre, par contre le début de l'au­tomne reste la période idéale. Les je­unes plants mis en place en début d'au­tomne ont la pos­si­bilité de s'en­raciner avant l'hiver, car même s'ils sont « aoûtés », et si la crois­sance de la partie aéri­enne est ter­minée, le sys­tème raci­naire con­tinue à se développer tant que la terre est en­core chaude (jusqu'à 10°, la crois­sance raci­naire con­tinue).
Ceci permet aux je­unes PLANT TRUFFIER ROBIN, comme par ex­emple le chêne truffier, de s'in­staller avant l'hiver, ce qui évite le risque de déchausse­ment hivernal et permet un redé­mar­rage beau­coup plus rapide dès les premières chaleurs du print­emps suivant.
Comme vous pouvez le voir sur les il­lus­tra­tions ci-dessous. Grâce aux GODET ROBIN ANTI-CHIGNON® et à l'au­to­cer­nage in­té­gral obtenu sur toute la sur­face de la motte, l'ar­chi­tec­ture na­turelle du sys­tème raci­naire est op­ti­male.
Plan­ta­tion début septembre et en­racin­e­ment mi-novembre d'un chêne truffier :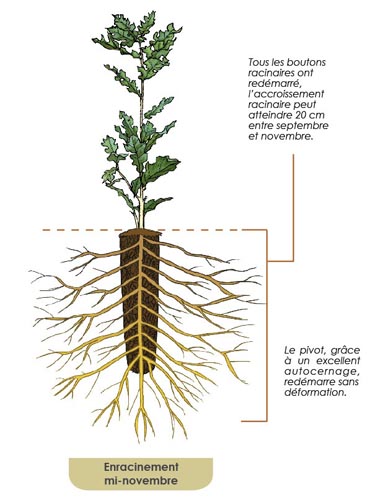 Plantation début septembre : 
Partie aérienne "aoûtée"
Boutons racinaires en attente, grâce à l'autocernage
Enracinement mi-novembre :
Tous les boutons racinaires sont redémarrés, l'accroissement racinaire peut atteindre 20 cm entre septembre et novembre
Le pivot, grâce à un excellent autocernage, redémarre sans déformation.
IMPORTANT

Les meilleurs résultats en plantation en croissance et taux de reprise avec les plants élevés et livrés en godets ROBIN ANTI-CHIGNON® ont toujours été obtenus avec des plantations d'automne très précoces.
Conseils de plantation
Avant de com­mencer la plan­ta­tion si les mottes sont sèches, il est vive­ment con­seiller d'ar­roser abon­dam­ment les plants en Godets ROBIN ANTI-CHIGNON® (ou de les bassiner en trem­pant les caisses pen­dant quelques min­utes dans l'eau). Vous con­stituerez ainsi une réserve d'hu­midité qui per­me­ttra au sys­tème raci­naire des plants de dé­marrer très rapi­de­ment.
It must of course be ensured that the planting hole is deep enough to correctly install the root ball from the ROBIN ANTI-CHIGNON® Bucket and in a vertical position, without compressing it. The top of the mound must be covered with 2 to 3 cm of soil to avoid wicking effects.
In order to optimize the planting technique of our plants in ROBIN ANTI-CHIGNON® buckets, and to be sure to put the clods in vertical position, and at a sufficient depth, we have developed a specific ROBIN planter.