Characteristics of Soils Favorable to Truffle and Mushroom Cultivation
The suitability of the soil (physical and chemical quality) for truffle and mushroom cultivation is a fundamental factor in the success of a truffle or CHAMPIGNON® ORCHARD®.
Characteristics of favorable soils for Truffle Farming
Favorable soils for different species of truffles:   
The black truffle (Tuber melanosporum):
It requires calcareous soil, rich in calcium and alkaline reaction. The optimum pH is between 7.5 and 8.5 with at least 8% total limestone. The favorable soils are generally shallow, 15 to 40 cm, on cracked rock, lumpy or sandy structure. They must be well balanced. in mineral elements and in organic matter: the carbon / nitrogen ratio (C / N) must be close to 10. Avoid compact soils with too clayey texture: 40 to 45% being the limit. The soil must be draining.
Burgundy truffle (Tuber uncinatum) and white summer truffle (Tuber aestivum)
They require a limestone ground: pH of 7 to 8. The organic matter content must be balanced. The C / N (carbon / nitrogen) can reach 20. The clay content may be higher than for Tuber melanosporum, up to 60%.
White winter truffle (Tuber magnatum) 
From the chemical point of view, the characteristics of Tuber magnatum soils are the same as those of Tuber melanosporum and Tuber uncinatum soils. From a physical point of view, Tuber magnatum soils are very specific soils (which explains geographical location of this species). They are non-superficial, non-stony soils with a rather sandy loamy texture, very well aerated, with very good drainage, remaining cool during the driest periods of the year. Note that it is difficult to judge, a priori, truffle grades. of a soil, unless it already produces truffles.
The importance of soil analysis
When a plot is selected for a future truffle plantation, it is essential to carry out a  soil analysis. This analysis aims to determine the species: host (tree) and especially mushrooms best suited to your land. They are based on the physical and chemical characteristics of your land, including its acidity (pH), calcium content, and organic matter.If your land is homogeneous, send us a sample of 500g of soil, taken at 20cm deep.
Floor preparation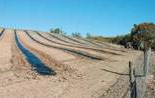 The ideal preparation is to work the field in full, by plowing at least 30 cm deep, followed by harrowing with a rotary harrow for example.For plots of small areas: less than 2 000m2 will be made a preparation of ground in pots: We will then work the soil on 1m2 and 30 cm of depth at the places envisaged for the plantation.
If the soil is very stony, make a clearing of the planting hole, making sure to create a volume of loose earth of about 50 liters around the plant.
Previous cultures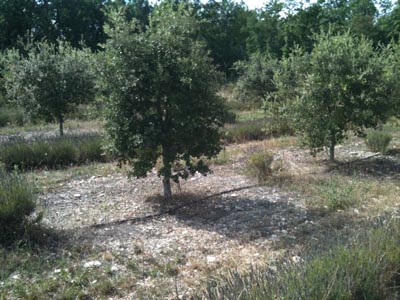 It is recognized that the vine, lavender, alfalfa, sainfoin prepare the truffle.These plants do not contain ectomycorrhizal fungi, which considerably limits the potential of competitive mycorrhizae of the truffle.By cons, it is not advised to install a truffle on a clearing or a recent deforestation (less than 5 years). Because the risk of contamination of young plants by mycorrhizal strains naturally present on existing trees is very important, with a long-term reduction in the chances of producing truffles.It is also not recommended to plant in the middle of a wood or near for the same reasons.
The characteristics of soils favorable for the cultivation of mushrooms
Delicious Lactarius (Lactarius deliciosus) and Blood Lactarius (Lactarius sanguifluus):
They usually grow in acidic soils but can also be found in calcareous soils.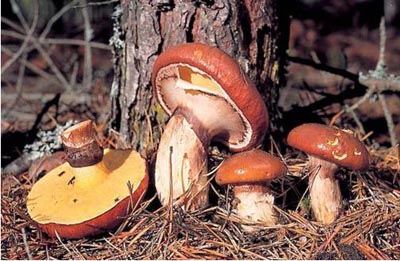 The Yellow Boletus (Suillus Luteus) 
It is indifferent to the pH of the soil and is found on both acidic sandy soils and calcareous substrates.
The importance of soil analysis
Soil analysis is recommended before considering the establishment of a mushroom orchard. It allows to choose the best mushroom species for the planting site.
Ideal ground preparation 
If the relief allows it, plowing in full at a depth of 25 to 30 cm.

Note that in most Mediterranean areas, subsoiling at 60/80 cm depth is required to prepare the soil for planting.

If the surface or the configuration of the ground does not allow the plowing, we will work the soil in pots of 1 m of side by 30 cm of depth.

If the soil is very stony, remove large blocks to create a loose soil volume of about 50 liters.

This method is particularly suitable for small-scale plantations.
Note that it is not advisable to plant PLANT CHAMPIGNON® if the ground is planted because even by cutting the trees and eliminating a maximum of roots, the risk of contamination of the young plants mycorrhizal by the mycorrhizal strains present on the trees in place is too important and production results could be highly compromised.