the different stages of production of a quality Christmas tree as well as the associated logistics...
Selection of the best seed sources
As a European specialist in the production of young plants in ROBIN ANTICHIGNON® cups, we raise our young Christmas tree plants in our cups from specially selected seeds, according to the best regions of origin for each species.
Ambrolauri Tlugi (Caucasus - Georgia) for the Nordmann fir
Kaïba (USA) for the Pungens spruce
Alps (high altitude areas) for the common spruce
Sowing in the ground
The juvenile growth of the species used for the production of Christmas trees requires a rather long production process (at least 7 years for a tree of 80 centimeters and up to 20 years for a tree of 10 to 12 meters high).

The selected seeds are sown in the ground. The young seedlings remain in place for 2 or 3 years before being transplanted into ROBIN ANTI-CHIGNON® cups.
Transplanting in ROBIN ANTI-CHIGNON® cups
The young seedlings are then lifted with lifters that preserve the root system, then transplanted into ROBIN ANTI-CHIGNON® cups.

This step allows us to obtain young plants with a very abundant root system and without any malformation. The young trees then grow for at least one year in ROBIN ANTI-CHIGNON® cups.
Planting in the field
After 1 or 2 years of rearing in ROBIN ANTI-CHIGNON® pots (depending on the species), the young plants are replanted in the field with a mechanical transplanter.

They are then cultivated for a period of 3 to 20 years, depending on the species and the desired height, with regular maintenance throughout these years (weeding, watering, pruning...).
             Discover our Christmas tree production methods in video...
Cutting Christmas trees in the field
All of our Christmas trees are individually marked in the field in order to select only the first choice and premium quality trees, ready to be cut. Our operators then cut them with a chainsaw for the largest diameters or with a brushcutter for the smallest.
The height of Christmas trees
The height of the Christmas tree is measured in centimeters from :
-the cut to the last wreath (whorl) folded on the spire, for cut Christmas trees.
-the soil level for Christmas trees in plugs, pots or containers to the tip of the arrow.

Each tree carries a label or a chromo whose color identifies the species, category and size.
Packaging of Christmas trees (netting)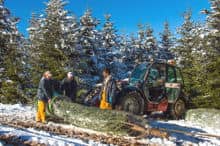 All our Christmas trees are delivered in nets up to a size of 10 meters and more.
This is why, once cut, they are quickly packed. 

This operation can be done :
directly in the fields
or from our shipping platform
For trees between 60 cm and 2.50 m, we use hydraulic wrapping machines to wrap them in nets. But we are also equipped with specific material to wrap large Christmas trees up to 11/12 meters directly in the field. In order to wrap the largest trees without damaging their branches, our team of technicians and mechanics has designed our own special XXL tree wrapping machine. This guarantees the transport of the largest trees in the best conditions.
              The fields where our Christmas trees are grown are, for 80%, located in the same town as our company headquarters. That is to say, less than 30 minutes drive from our headquarters, which allows us to reduce the time between cutting, packaging and shipping and thus guarantee maximum freshness to our Christmas trees.
The drilling of the feet of the Christmas trees
In order to allow their later fixing on a FRESCHER TREE® water reserve support, our trees can be delivered with drilled feet (machine operation, on request only).

This step consists of drilling the base of the tree with a specially adapted drill bit. Then, all you have to do is place it on its water reserve support when you install it in your home.
Packaging and palletizing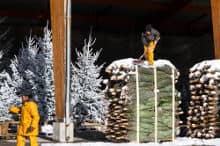 Our palletizing machines allow to pack the trees flat, without damaging them. This palletizing system saves space during transport and time during unloading operations at the customer's premises..

Palletizing of Christmas trees is possible for trees from 60 cm to 2.50 m high.
Shipping and delivery of trees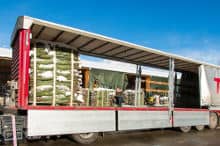 Deliveries are made by our own fleet of vehicles. We have 4 semi-trailers and 3 straight trucks for smaller orders.
Photo gallery of Robin's Christmas tree planting
Little tree will become big before being selected, cut, packed and shipped...