The Quality of ROBIN FUNGI® PLANTS
PLANTS CHAMPIGNON® ROBIN are high quality plants produced in our nursery by techniques developed in the framework of the ISO 9001 standard and under INRA license (National Institute of Agronomic Research).
The mycorhization of ROBIN PLANTS CHAMPIGNON® nurseries, is controlled and certified by INRA, then they are delivered with an individual label, numbered and vintage.
The rigor of these controls, ensures our customers 
guaranteed and certified mycorhization with different species of selected mushrooms.
a high level of mycorrhization
a purity of mycorrhization: no contaminant on the root system, which could be competing or hinder the development of fungi.
We can guarantee that with ROBIN FINE PLANTS you have all the assets to succeed in  growing Mushrooms .
The different PLANTS CHAMPIGNON® ROBIN
The PLANTS CHAMPIGNON®, is an exclusivity of Robin Pépinières, who won the 2008 Gold Trophy at the PROMOJARDIN Innovation Awards (Interprofessional Association for the Promotion of the Improvement of the Environment and the Environment). living environment).
In order to meet the varied requirements of our customers, we offer a complete range of ROBIN PLANTS®, with controlled mycorrhiza- tion of different edible fungi, on different species of pine (Pinus).
With PLANTS CHAMPIGNON® ROBIN you can grow the following mushrooms 
- The Lactaire 
The Lactarian genus includes many species, the most famous of which are Lactarius deliciosus and Lactarius sanguifluus.
They are classified as excellent edible mushrooms. We produce mycorhizal plants with both of these species under control and license INRA.
- The Yellow Boletus (or Veiled Nonette)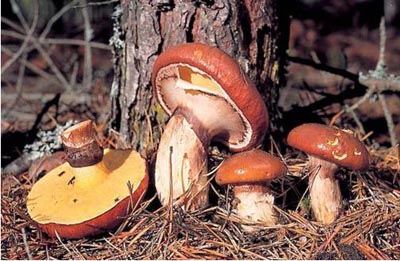 We also offer mycorrhizal plants under control and license INRA, with the Yellow Boletus (Suillus Luteus). The Yellow Boletus is an edible mushroom very much in demand for use in the kitchen and in the cannery.
With ROBIN FUNGI® PLANTS, you can start growing mushrooms and growing Lactaires or Yellow Boletes in a CHAMPIGNON® ORANGE.
We propose several species of mycorrhizal pines:
Austrian black pine (Pinus nigra austrica)
Scots pine (Pinus sylvestris)
Parasol pine (Pinus pinea)
Maritime pine (Pinus pinaster)
ROBIN CHAMPIGNON® PLANTS are available in ROBIN ANTI-CHIGNON® cups  in 3 different sizes:
GR 430 cm3
GR 600 cm3
GR1,5 liters
These patented buckets allow to obtain an optimal root development with a very abundant scalp and without malformation thanks to the integral autocerning process.
This is very important for the good growth of PLANTS CHAMPIGNON® and mycorrhizae.