Where and how to produce white truffles ?
Sometimes called winter truffle, Alba truffle or Italian truffle (in relation to its geographical origin),
the white truffle
(
Tuber Magnatum
) is the rarest, the most famous and therefore the most expensive of truffles. Its incomparable perfume and its bewitching aroma make it a must for the greatest gastronomic tables. But what are its characteristics? How to recognize it? Where to find it? How to grow it, from which plants and under which climatic conditions? When should it be harvested? This is what we are going to see through
this advice page dedicated to the cultivation of the white truffle
.
Characteristics of the white truffle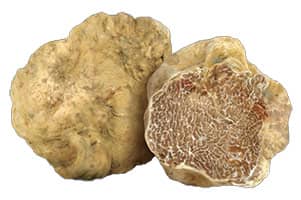 The white truffle, also called Italian white truffle or Alba white truffle (from the name of a Piedmontese town that based its fame on this famous mushroom), belongs to the Tuberaceae family. This edible mushroom is called "hypogeous" because it grows underground. It is also a "mycorrhizal" mushroom, which means that the truffle lives in symbiosis with a host tree, most often a white oak or pubscens oak.

Tuber magnatum is characterized by its white and smooth peridium. Inside, the flesh of the mushroom is white and marbled. The white truffle is known for its delicacy and its intense and incomparable perfumes. This type of truffle is best eaten raw because its subtle aroma disappears when cooked. It is best to grate or slice it into thin strips. White truffles reach maturity between October and January.
Soils and climates suitable for growing white truffles (Tuber Magnatum)
Symbiotic and subterranean mushroom, the white truffle develops underground at a few centimeters of depth.
It appreciates loose and sandy soils and needs a cool and humid atmosphere. This is why, in nature, it is often found along waterways, in association with deciduous trees (willows, poplars, lime trees, hazel trees, oaks etc.) in soils that are not too clayey.
Soils adapted to the development of Tuber magnatum
The soils favorable to Tuber magnatum are not very evolved, of rendzine or brown limestone type. They are generally deep, moderately permeable, poor in pebbles, rich in silt and clay (but they can be sandy). The soils must be filtering, not asphyxiating, well drained, thus presenting a high porosity while allowing a good humidity in any season. From a chemical point of view, the requirements of the white truffle are similar to those of Tuber melanosporum. Limestone is an essential element in the form of carbonates, but the contents are very variable (from 10 to 70%). Generally, the total limestone is higher than 10% and the active limestone at 2%. The pH should ideally be between 7.5 and 8.5. The organic matter should not be too abundant (C/N ratio of 13, up to 18).
We remind you that Tuber magnatum is a truffle with specific requirements. That is why we advise you to proceed to a soil analysis to check if your land is suitable for it. We can arrange for this analysis to be carried out by our partner, the WeTRUF laboratory, which specializes in soil analysis for Tuber magnatum truffle cultivation.
Predilection climate of the white truffle
The bottoms of valleys or slopes with gentle slopes (less than 50%) are the most favorable situations for the development of the white truffle. The altitude should not exceed 800 meters with an optimum below 400 m. Daily or seasonal temperature variations must be low. Tuber magnatum thrives in dense vegetation where the ground is always shaded. These are conditions that favor a constant soil humidity in all seasons, which is a determining factor.
Watering and water requirements of the white truffle
In its natural area, Tuber magnatum grows in variable climates, ranging from subcontinental to sub-Mediterranean, where the average annual rainfall is usually high (from 600 to 850 mm, sometimes up to 1200 mm), with an average monthly precipitation of over 40 mm. The most favorable microclimates are characterized by the absence of a dry summer period. The rainfall in July and August is very important.
Tree mycorrhization by the white truffle Tuber magnatum
The white truffle is particularly fond of humid soils and naturally grows near waterways and trees such as willows and poplars. For a long time, the white truffle has kept a part of mystery, so much so that all attempts to cultivate it in the 80s and 90s have proved unsuccessful. Since then, things have changed and it is now possible to cultivate the Italian white truffle thanks to truffle plants mycorrhized with Alba truffles. This innovation is the result of many years of joint research and development between ROBIN Nurseries and INRAE, which led to a world first in 2007: obtaining, for the very first time, Tuber Magnatum mycorrhizae on plants raised in nurseries.
In 2007, ROBIN obtained the first mycorrhizae of Tuber magnatum on truffle plants produced in nurseries. A world 1st !
Since autumn 2009, ROBIN Nurseries has been offering exclusively truffle oaks mycorrhized with white truffles. These plants are produced under license and control INRAE according to the process INRAE-ROBIN. In addition to the pubescent oaks, we are also able to propose plants of pedunculate oaks and common hornbeams suitable for producing white truffles. Below, you will find all the host species proposed by ROBIN Nurseries after mycorrhization with the white truffle :
  
Thanks to their high level of performance, these plants allow you to produce your own white truffles. Please note that depending on the age of the plant and the soil chosen to plant it, you will have to wait between 6 and 8 years to harvest your first white truffles.
ROBIN TRUFFLE PLANTS mycorrhized with white truffles are available in ROBIN ANTI-CHIGNON® buckets of 0.43 liters. These are high quality plants produced in our nursery by techniques developed within the framework of our quality system and under license from INRAE (National Research Institute for Agriculture, Food and the Environment). These plants are delivered after a double control of each plant by INRAE, a first visual control under binocular magnifying glass and a second control by biomolecular analysis, which certifies that the plant is well mycorhized with Tuber magnatum "Pico".
You hesitate between several plants? You are not sure to choose the most suitable host species for your truffle plantation project? For the realization of your white truffle orchard, do not hesitate to contact the sales manager of your sector, he will be able to advise you and accompany you step by step.
10 questions and answers about the white truffle cultivation
In its natural state, the white truffle usually grows near trees such as willows, poplars or oaks, which retain rainwater and guarantee the constant humidity it needs to grow.
Le cycle biologique de la tuber melanosporum est le suivant : naissance des truffettes en mai et juin, accélération de la croissance en août, maturité atteinte entre décembre et février. Récolte en hiver, jusqu'à début mars.
If the pubescent oak remains the queen species for the production of white truffles, it is also possible to cultivate them from pedunculate oak plants, or even from common hornbeam; provided however that these plants are previously mycorhized and controlled with tuber magnatum.
Depending on the host species of the chosen plant (oak, hornbeam...) and its age, the price of a truffle plant mycorhized with white truffle varies from 99 € to about 136 € per unit. Note that these prices are decreasing according to the number of plants ordered.
For Tuber magnatum, the first harvest can be done from the 4th year after planting. On average in white truffle orchards, the first truffles are harvested between 5 and 8 years after planting.
Several factors are decisive in the cultivation of the Alba white truffle. Among them, let us quote more particularly :
• the absence of stones
• a pH above 7 (presence of active limestone)
• a good aeration (sufficient macroporosity)
• a good drainage
• a constant presence of humidity (especially in summer)
The white truffle (called Alba truffle) is the rarest of truffles. Considered as an exceptional product prized by starred restaurateurs and gourmets around the world, its price can vary from 2500 to 5000 €/kg.
Tuber Magnatum truffle plants can be found exclusively at ROBIN Pépinières. If you live near our sales points (department of 04 and 05), do not hesitate to visit us, you will benefit from precious advices before starting. Otherwise, you can buy your Tuber magnatum truffle plants directly online, via this website. They will be delivered at home !