Tuber Uncinatum - The ROBIN truffle plants mycorhizés with truffle of Burgundy: Truffier oak, hazel truffle, truffle white charm ...
Tuber Uncinatum (The Truffle of Burgundy):
The Truffle of Burgundy (Tuber Uncinatum) is probably the species of edible truffle most widespread in Europe Tuber Uncinatum was described and named by Chatin in 1887, from the Latin uncinatus = curved hook.
Many forest species hosts, can live in symbiosis with the truffle of Burgundy, the best known are the truffle oaks, the truffle hazelnuts, the truffle charm and the truffle Austrian black pine.
Until the Renaissance, the only truffle that appeared at the table of kings of France was the truffle of Burgundy.
The quality of PLANTS TRUFFIERS ROBIN:
As we discussed in the section of the ROBIN Truffle plants, these are high quality plants produced in our nursery by techniques developed within the framework of our quality system and under license INRA (National Institute of Agronomic Research).
Identification of Tuber uncinatum: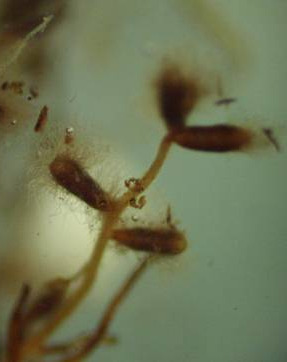 Mycorrhizal ROBIN TRUFFIERS PLANTS with Burgundy truffle are available in  ROBIN ANTI-CHIGNON® cups  in 4 different sizes.
The bucket Robin Anti-chignon® R 430 volume 0.43 liters

The bucket Robin Anti-chignon® R 600 volume 0.6 liter

The bucket Robin Anti-chignon® R 1.5 L volume 1.5 liters

The bucket Robin Anti-chignon® R 3 L volume 3 liters
Host essences available for the mycorrhizal ROBIN truffle plants with Burgundy truffle:
ROBIN Pépinières offers many species of hosts, to best adapt to different conditions. 
Below, all the host species proposed for the ROBIN truffle plants with mycorrhizal truffle
Burgundy:
Atlas cedar (CEDRUS atlantica)

Hops Charm (OSTRIA carpinifolia)

Common hornbill (CARPINUS betulus)

White oak (QUERCUS pubescens)

Pedunculate oak (QUERCUS robur)

Common Beech (FAGUS sylvatica)

Common hazel (CORYLUS avellana)

Hazel tree of Byzantium (CORYLUS colurna)

Austrian black pine (PINUS nigra austriaca)

Small-leaved lime (TILIA cordata)
For the realization of your truffle do not hesitate to contact us or contact the sales manager of your sector.